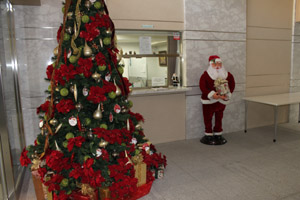 Hello everyone. These are news from the Ooka International Residence.
The time goes by quickly and the end of the year is almost here. Have you made your plans for the winter vacation?
This time the news letter features most recent in-house event, Christmas party and bingo game.



☆Christmas Party ☆


It is getting colder and colder here. Before the winter vacation, Christmas party was held on Friday, December 16th to heal your everyday fatigue. Many international and Japanese students, as well as researchers and YNU faculty members and their families participated in this party, so the party was really lively. The party catering was arranged this time. The catering company delivered food and prepared the place. In addition, they brought drinks and special beer server and served each time. The party looked gorgeous. Everybody seemed to be satisfied with Japanese style party food (yakitori, sushi and more) and may kinds of drink (soda, juice, wine and beer).
We played bingo with 20 Christmas gifts(1st?10th prizes and 10 lucky draws), because this time was Christmas party. I was afraid whether bingo game was a world-famous game before I started. However, I was overpowered by participants that appealed the number to want. Everybody excited and shouted. By the way, only Japanese have special rule of bingo. People need to say "reach" before the card becomes bingo. International students didn't say anything before becoming bingo, so I felt difference in culture.
Congratulations to everyone who won the bingo prizes. The student who got the 1st prize (Disneyland pair tickets) will go there with his girlfriend. Wow! Lucky him! Everybody seemed to enjoy this party and made friends with each other.
We try to plan a lot of events for our residents in the future, and look forward to your suggestions and opinions.


Wishing you All a Merry Christmas and a Very Happy New Year!!!